Alchemy Deluxe
Game Description
Transform lead into gold in this magical game.. Connect rows of colored symbols to turn the row into gold. Save your scores for posterity. If you work your magic and cover the entire board, you can become a Grand Master! With enhanced level backgrounds, mystery gems and new hi-res graphics the magic will come alive!
Download Alchemy Deluxe Here!
Amazing Adventures Around The World
Game Description
Pieces of an ancient stone tablet have started turning up around the globe and the Museum needs your help to locate the pieces and find the most expensive gem ever known...the "World Diamond". Complete over 100 levels by finding hidden objects and circumventing unique puzzle traps.
Download Amazing Adventures Around The World Here!
Amazing Adventures The Lost Tomb
Game Description
Find over 2000 Hidden Objects in over 100 levels.Explore 22 unique Egyptian locations.Circumvent 7 unique mini-game puzzle traps including Spot-the-Differences.Two game modes: "Find the Lost Tomb" and "Secret Game"
Download Amazing Adventures The Lost Tomb Here!
Astropop Deluxe
Game Description
Play as four different characters with unique skillsEach character has eight different power levelsTwo play modes to choose from Classic and Survival
Download Astropop Deluxe Here!
Atomica Deluxe
Game Description
Do you have what it takes to win this nuclear-powered puzzler? Combine atoms to make molecules and score big points. Or go up against the clock in Time Trial mode. The more molecules you create, the bigger the reaction and the greater the score! Here are some key features of "Atomica...
Download Atomica Deluxe Here!
or
Download Atomica Deluxe Here!
Bejeweled Deluxe
Game Description
Amazingly simple to play - unbelievably hard to put down! Bejeweled has become known as one of the rare games that you can play all day 'just one more go' at a time. Choose from a relaxing and absorbing easy game, or a frantic timed game, as you tap adjacent pairs of gems to swap them and make matching horizontal and vertical lines of three or more.
Download Bejeweled Deluxe Here!
Bejeweled Deluxe 2
Game Description
PopCap Games has made a living on creating simple puzzle games packed with extremely wide appeal. A quick visit to its Website shows off as many as 14 downloadable games prepped to whittle off hours from your busy day. Why waste one's time in such a manner? Aren't there more important things to do, people to meet, places to go? Give Bejeweled 2 less than five minutes and you'll see your day, like dangerous Rebellion galaxies, slip through your fingers.
Download Bejeweled Deluxe 2 Here!
Bejeweled Twist
Game Description
Spin, match, explode… WOW! It's a brilliant new way to play Bejeweled, from PopCap. Spin and match explosive gems for shockwaves of fun. Rotate jewels to set up electrifying combos, outwit surprising obstacles like Locks and Bombs, and create high-voltage Flame and Lightning gems.
Download Bejeweled Twist Here!
Big Money Deluxe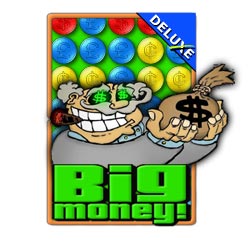 Game Description
The strategy is simple in this classic puzzle, be greedy! Grab all the coins you can and fill up those moneybags! Play in one of three exciting modes: Action, Strategy, and Puzzle. This is a game that will please those that are into arcade and puzzle games! From the makers of the hit game Diamond Mine
Download Big Money Deluxe Here!
Bonnie's Bookstore Deluxe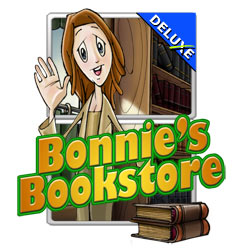 Game Description
Bonnie has taken over her grandfather's bookstore. She decides to write a children's book after discovering some fairy-like drawings in the attic that were drawn by her father. Take up this challenge with Bonnie in Bonnie's Bookstore Deluxe. Find and form words throughout 50 levels. Finish a chapter to reveal a fairy tale. A fantastic game for wannabe writers.
Download Bonnie's Bookstore Deluxe Here!
Bookworm Deluxe
Game Description
Play Bookworm Deluxe whenever you want! Make words up to 12 letters long and try the new Action game.
Download Bookworm Deluxe Here!
Bookworm Adventures Deluxe
Game Description
Bookworm Adventures is a follow-up to the word-forming computer puzzle game Bookworm from PopCap Games. Released in November 2006, Bookworm Adventures combines the "create words from sets of letters" aspect of Bookworm with several elements of a computer role-playing game. In the 2007 Interactive Achievement Awards, Bookworm Adventures won the "Downloadable Game of the Year". The game also won three Zeeby awards for Best Word & Trivia Game of 2006, Best Game Design of 2006 and Best Story/Narrative of 2006.
Download Bookworm Adventures Deluxe Here!
Chuzzle Deluxe
Game Description
Chuzzle Deluxe is a cute game but also very challenging. There are four different modes in Chuzzle, it is easy to learn, the music is great and the gameplay is addictive
Download Chuzzle Deluxe Here!
Cosmic Bugs
Game Description
Get ready for addictive arcade action! With a nod to classic gaming, the creators of Platypus deliver an exciting contest of wits and reflexes. Draw lines through unique shapes to fill up the level. But watch out for the Cosmic Bugs! They'll do everything they can to thwart your progress. Featuring amazing graphics, an exciting soundtrack, and over 500 levels, Cosmic Bugs is electrifying fun!
Download Cosmic Bugs Here!
Dynomite Deluxe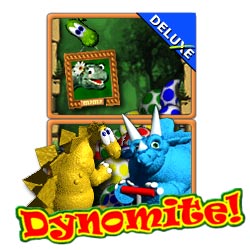 Game Description
hoot eggs at the puzzle to match up colors. Get three or more together, and they'll blast off the screen. Looking for a frantic, fast-paced game to get the heart pounding? Try the Endless game. Or, wind down with a relaxing, soothing game in Time Trial mode. Not keen on those options, why not try Stomped or Fossile Challenge. Test yourself with super play mode or take it easy with easy. With something for everyone, Dynomite will have you addicted from the second you pick up your mouse.
Download Dynomite Deluxe Here!
Escape Rosecliff Island
Game Description
Search a mysterious island for hidden objects on an unforgettable adventure in Escape Rosecliff Island™. Use your eye for detail and your knack for puzzles to reveal the truth about Rosecliff Island and, more importantly, find a way out of there! Uncover more than 2100 hidden object by deciphering clever clues. Solve perplexing puzzles and collect special items to aid in your quest. Try the Escape from Rosecliff Island™ free demo for a sneak peek at this thrilling experience and play the full version for a truly mesmerizing adventure. Featuring stunning full-screen graphics, a stirring soundtrack, and three challenging game modes, Escape Rosecliff Island™ is a one-of-a-kind quest for gamers everywhere. Escape today!
Download Escape Rosecliff Island Here!
Feeding Frenzy Deluxe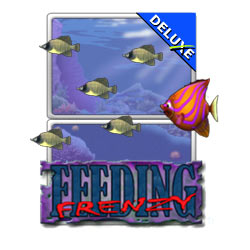 Game Description
It's survival of the biggest in this action packed deep-sea challenge. Eat your way to the top of the food chain as you swim through stunning underwater environments and encounter deadly predators. Look out for the power-ups, mermaids, and bonus stages that you'll need to help you on your quest to unseat the vicious Shark King!
Looking for even more Feeding Frenzy? Unlock 6 different underwater screen savers by racking up points in your "Food Bank."
Download Feeding Frenzy Deluxe Here!
Feeding Frenzy 2 Deluxe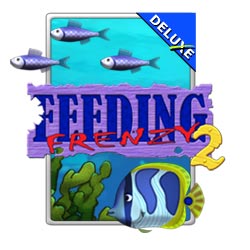 Game Description
The delicious sequel to Feeding Frenzy: here's Feeding Frenzy 2 Deluxe! Gobble your way up the food chain. With stunning, colorful underwater worlds, crunchy new fish and other tasty seafood and 60 new levels that will make your mouth water. Eat or get eaten!
Download Feeding Frenzy 2 Deluxe Here!
Hammer Heads Deluxe
Game Description
The gnome population has gotten so far out of control they're literally popping up everywhere! Bash them with your hammer as quickly as you can while keeping an eye out for special gnomes, prizes, and power-ups. Explore two different game modes, earn trophies, and upgrade your gnome-bashing hammer. Whack away your day with Hammer Heads Deluxe and have a smashing good time.
Download Hammer Heads Deluxe Here!
Hammer Heads Deluxe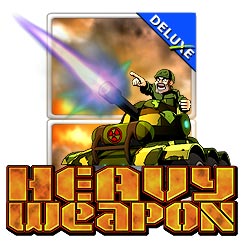 Game Description
Heavy Weapon Deluxe unleashes adrenaline-soaked, side-scrolling, shoot-em-up arcade action. With a blast of retro-80's videogame chic, Heavy Weapon Deluxe brings classic shooter action to the casual gamer with an intuitive mouse-driven interface, explosive graphics, and easy-to-learn mechanics.
Download Hammer Heads Deluxe Here!
Iggle Pop Deluxe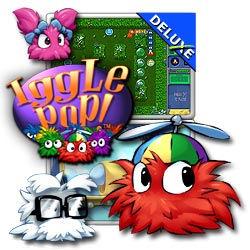 Game Description
The Iggles need you! These adorable fuzz balls have been bubbled by the evil Zoogs. Your mission is to pop them into freedom without getting zapped, boinked or konked. Save your buddies by scooting around the maze and collecting a conga line of Iggles. Drop them off at a transporter to send them on home. The more levels you clear, the harder — and funnier — it gets!
Download Iggle Pop Deluxe Here!
Insaniquarium Deluxe
Game Description
Insaniquarium Deluxe has you nurturing two guppies inside an aquarium so they become bigger and stronger over time. Yet this is not a typical breeding simulation or a soothing screensaver -- aliens will pop in from time to time to put the brakes on each fish's life cycle, so it's up to players to shoot them down with a laser gun. As players feed and care for their fish, coins will drop that can be used to purchase an assortment of items. The main aspect of play is the adventure mode, where the goal is to purchase three pieces of an egg that will hatch a pet needed to complete the level. Each pet can perform different functions, from aggressively attacking the alien invaders to rapidly scooping up dropped coins. Twenty levels of underwater mayhem await aquatic aficionados, with four different tanks that can be populated with various creatures.
Download Insaniquarium Deluxe Here!
Note:
No install or crack is required for this portable version. Extract the RAR file and create a shortcut to the executable (EXE) to play.